Lady in Sepia for Mother's day
Mothers are Rock Stars!
This month I couldn't speak about Art without recognizing the greatest artists of all time, the creators of life… Mothers!
I want to honour the many mothers, grandmothers, older sisters, aunts… all those women who have given us so much. As such, this mother's day I will make one mother the rightful owner of my artwork "Lady in Sepia"...
Lady in Sepia, 2018
Oil on Canvas
36 IN × 36 IN
Estimated Value $4,500 - Enter contest to Win!
"Once upon a time, in a place not-so-far away lived a lady who had lost her colours. She lived in a land where women became property of their husbands as they wedded. She lived at a time when her own self was lost to the one her parents loved. She lived at a time when her beauty was her only asset...
Her portrait has no eyes... no gateway to her mind, no access to her soul; but yet, my Lady have scarlet red velvet lips… silent lips that had so much to say.
Somehow, at some point throughout the times, someone managed to hear the silent cry of my Lady's thoughts. And three hundred years after her time on earth, that silent cry became the scream of many demanding we start painting the eyes of our women in their portraits.
Lest we forget our Lady in Sepia and how hard it was to listen to her voice. Still we have so many eyes to paint"
If you have not entered the contest yet, please check the link. It is absolutely free – no strings attached! All you have to do is tell me why that especial person (with or no longer with us) should win the painting.
www.Carolina.Love ​​​​​​
On Sunday, May 13, I will go live on Instagram/Facebook to announce the winner of the contest.
Follow me on Instagram and don't miss the competition!
Mom's Art
I have done many paintings of my personal superhero: my mom. Here she is on her wedding day: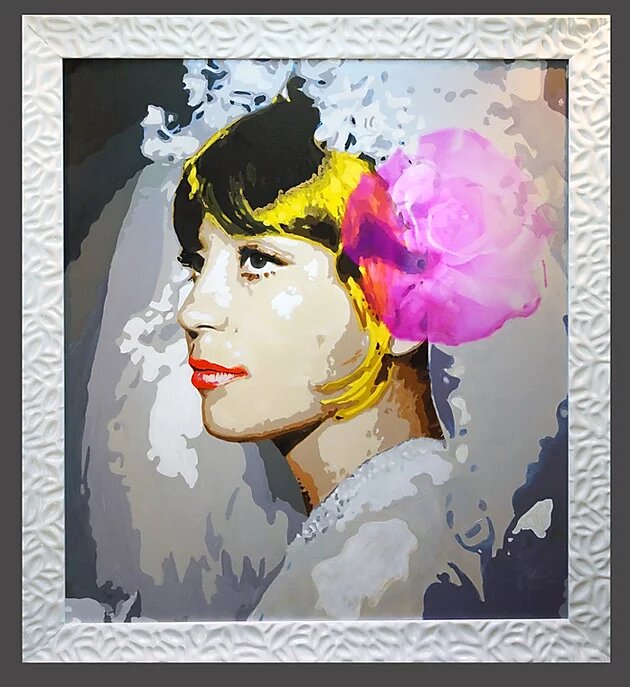 Nana, 2013
Acrylic and Air Brush on Canvas
60 IN × 66 IN
MORE PICS
She had been born with a different name.
Today, her life will forever change.
She will continue to love mystery novels and to watch love stories in bed. Her exotic beauty will continue to turn heads and steal the hearts of many, but her life won't be the same.
I wonder if she knows we will share a little house in a little neighborhood uptown. I wonder if she knows she will carry me in her arms, kiss me on the forehead and rock me to sleep.
I wonder if she knows I will play forts and spaceships on her bed; and that I will use her pillows for a pirate fight. I wonder if she knows I will stretch out like a star just so she can bundle me back up in her arms.
I wonder if she knows…I will forever love her with all my heart.
Finally….
I want to leave you with a beautiful flower to celebrate mother's month.
The Connaught Flower
Enamel and Silver Leaf on Wood
40 IN × 60 IN
Did a friend share
this with you?
Signup for weekly updates and never miss a post!
Can't Get Enough
of the Vargas Reis art?
Visit my website
www.Carolina.Love
Follow me:
Carolina Vargas Reis ART | Toronto, Canada
You received this email because you are registered with Vargas Reis ART
Unsubscribe here
Sent by
© 2018 Carolina Vargas Reis
---
---